It was the summer of '61, Kennedy was in the White House, I was in church, and Hannah Howard was in a pair of white Mary Janes. Hannah was the prettiest girl in my school.  She had long platinum hair, bright blue eyes, and a Hollywood pedigree. Her mother was Priscilla Lane, who had starred in The Roaring Twenties, with James Cagney, and Arsenic and Old Lace, with Cary Grant.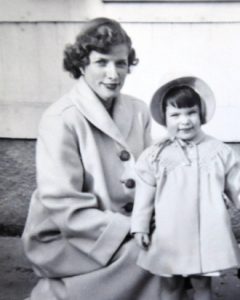 I kept staring at her outfit as I inched my way toward the Communion rail. Suddenly I felt a sharp poke in my back. It was my mother, and I knew exactly what that poke meant: You stop right now! You're in church! But I couldn't stop because I'd fallen in love with Hannah's white mary janes.
In hindsight, I realize I was infatuated not so much with the shoes but with the idea of Hollywood perfection viewed through the eyes of a ten-year old. Though my mother was blonde and very pretty, she wasn't a movie star, and nobody would ever mistake me for a movie star's daughter. Instead of long platinum hair, I had a brunette pixie cut that clung to my head like an upside down artichoke, and I was freckled and gawky.
"White shoes?" my mother said as we drove home. "Are you crazy? They're going to get filthy and then what will you do?"
In the midst of our ongoing discussion, a skunk moved into our backyard. After days of screaming, "Get out, you pest!" my mother called the Andover police. In all fairness, she hadn't expected a firing squad. To this day, I can still hear them shouting, "Ready! Aim! Fire!"
I became hysterical and to calm me down, my mother offered to buy me a Popsicle. "I just saw an animal being killed before my very eyes," I cried.  "You think a Popsicle is going to make that image go away?"
"Then what would?"
I pretended to think for a few seconds. "Hmmm," I said. "White mary janes?"
2) Beatle Boots
Paul was my mother's favorite Beatle, which really annoyed me because he was my "fave" too. Parents were supposed to hate the Beatles, not love their music and moon over their photographs. My mother's infatuation with Paul did have some advantages. She bought Beatle albums the minute they were released, along with all the special edition fan magazines, and 16 and Tiger Beat.
Every spring, the Girl Scouts put on a show to entertain the Brownies, and my best friends thought it would be fun if we impersonated the Beatles.  Mary, who had brown eyes and was left-handed, seemed the logical choice for Paul. The other two girls took John and George. That left me with Ringo, who was nobody's favorite.
For the next two weeks we practiced lip-synching to "She Loves You," shaking our heads in unison as we mimed the falsetto ooooohs. It quickly became evident that Mary was the breakout star. Her resemblance to Paul was uncanny.
I was dying to get a pair of Beatle boots, which I hoped would compensate for the psychological damage that would result from being Ringo.
"Beatle boots — are you crazy?" was my mother's first reaction.  Eventually, I wore her down, and we went off to the shoe store.
"You may be in luck," the salesman said. He pulled out a men's black boot, with elastic inserts, a side zipper, and a two-inch Cuban heel.
On the day of the performance, we wore white dickeys, navy blazers, and black slacks, tucking our hair inside our collars to make it look shorter. The Brownies were in the school auditorium waiting for the show to begin. When one of the Brownies noticed Mary's startling resemblance to Paul, she let out a scream, setting off a chain-reaction.
Due to our legendary Brownies' appearance, we were deluged with offers to perform at kids' birthday parties, so we officially became "The Beatle Girls." We bought silver ID bracelets with our designated Beatles name on it, although I cheated and had mine engraved PAUL.
Then one day, Sister Superior charged into the classroom. "I would like to see the Beatle Girls," she said. One by one, we slowly stood up.
"I am officially disbanding the group," she said. "Tomorrow I want you to bring in your Beatles costumes and whatever else you have, and they will be confiscated." The next day, I handed over my plastic rings, my white dickey, and my Beatle boots. I'd left my Paul ID bracelet at home, but Sister Superior didn't seem to notice.
"I heard Sister Superior took away all your things, including your boots," my mother said later. "That's the last time you are ever going to talk me into getting you a pair of stupid shoes."
Now my Beatle boots were stupid. Had Sister Superior gotten to her too? We didn't speak for the next three days, and then one afternoon, I found my Beatle boots in my closest. "I told Sister Superior you needed them because you have foot problems," my mother explained.
That night, I took off my Paul ID bracelet and placed it on her pillow. It was the least I could do for a fellow Beatles fan.
3) Red Pumas
Lee showed up at my door in red patent-leather Puma sneakers. Over a Mexican dinner, he explained that the sneakers were very rare and could be found only in special stores in Europe. Between college and business school he'd worked for Puma, a German sports company that had previously been Dassler Brothers Shoes. After a famous feud that divided their small Bavarian town, brothers Rudi and Adi Dassler, who'd been members of the Nazi Party, split up the company.
"Adidas was named for Adi," Lee explained, "and Puma for Rudi."
"Puma sounds nothing like Rudi," I said.
"Maybe he named it after a puma because the cat is so fast."
"Maybe." I was getting a little tired of Adi and Rudi and debated having a second margarita, but since he'd ordered only beer, I didn't want him to think I was a lush.
After he paid the check, he walked me back to my apartment and a funny thing happened. Despite the red Pumas, we fell neatly into step, as if we'd been walking side by side for decades. Suddenly, I heard a voice whisper, You will marry this man, and I thought, Marry the man! I don't even want to go on another date with him.
Five years later, we did get married. I bought a wedding suit at Barneys and a pair of Manolo Blahnik pumps. To save on tax, the salesman suggested I send them to my parents' house in Massachusetts. I'd forgotten to tell my mother and when I called she was already wearing the suit and the shoes. She loved the suit but wasn't sure she liked the pumps. "The toes are too pointy," she complained.
"My mother was in my wedding shoes," I told Lee, who gave me a look that said, "So what else is new?"
In preparation for our marriage, we had to attend several psychological counseling sessions with the minister. He kicked off the first one by asking, "If you could choose any other profession, what would it be?" I said "actress," which wasn't unreasonable given my drama background. Lee said, "fashion photographer," which was totally unreasonable given he'd worn red Pumas on our first date. Later, the minister pronounced us the least compatible couple he'd ever met.
We recently celebrated our 25th wedding anniversary.
4) New Balance Sneakers
My 92-year old mother needed new sneakers, so Lee and I took her to the New Balance factory outlet. She hoped New Balance would restore her old balance.
The parking lot was on a steep incline, so Lee dropped us off while he parked the car. My mother sat down on a bench, while I pulled out various models, which she rejected for multiple reasons. "I want something subdued," she said.
"Like gray?" I asked.
"Gray! Ugh!"
I found a blue pair and helped her walk up and down the aisle. She wore them out of the store and across the parking lot. "I'm delighted with them. I would never be able to do this myself," she said of the walk. "The parking lot is treacherous. I'd probably kill myself."
Back in New York, I called my mother. "So, how are the sneakers?"
"I brought them back."
"But you walked from the store to the car! You said it was treacherous. You said it could kill you!"
"Those sneakers would have killed me first. Anyway, you'll be happy to know I bought the gray ones."
Several days before Thanksgiving, she was taken to the emergency ward with an excruciating headache. Or was it eye pain? It was hard to keep up with her complaints. The doctors diagnosed congestive heart disease, and she was sent to a nearby nursing home for rehabilitation. "Get me out of here," she kept saying. "If I'm going to die, I want to do it in my own home. I want to go out feet-first."
On a wintry January morning, we arranged for an ambulance to bring her back to the house she'd lived in for 53 years. I'd left the Christmas decorations up for her to see, but the ambulance workers brought her directly upstairs on a stretcher. Several days later, she lapsed into a coma. To the sounds of Handel's Panis Angelicus, she stirred slightly, took several big breaths, and then one long exhale. "She's gone," the home-care attendant said.
The men from the funeral parlor took my mother's body down the stairs feet-first. My sister went into my mother's bedroom to find clothes for the wake. We searched the closet for shoes but could only find the New Balance sneakers.
5) White Oxfords
Six months after my mother died, my father fell in the bathroom and was taken to the emergency ward where he was diagnosed with pneumonia. In a repeat of what had happened to my mother, he went from the hospital into a nursing home for rehab. He'd never been a demonstrative man, but when we said goodbye, he told me, "I don't know what I'd do without you." I cried most of the way back to New York.
When his rehab period was about to end, we discussed bringing him home, but even with 24-hour care he feared he might take a bad fall. "What's a home anyway?" he asked. Without my mother, he no longer had one.
That night we stayed in the house, in the room where my mother died. It felt surprisingly peaceful. The next morning I gathered some of my old things to bring back to New York.  At the beginning of the summer I'd spotted a pair of white oxfords that I liked but were too expensive. By July, they were half-price so I bought them. As I walked from room to room, I heard my mother's voice telling me, "White shoes? Are you crazy."
From 9 1/2 Narrow, by Patricia Morrisroe, to be published April 14, 2015 by Gotham Books, an imprint of Penguin Publishing Group, a division of Penguin Random House LLC. Copyright © 2015 by Patricia Morrisroe.